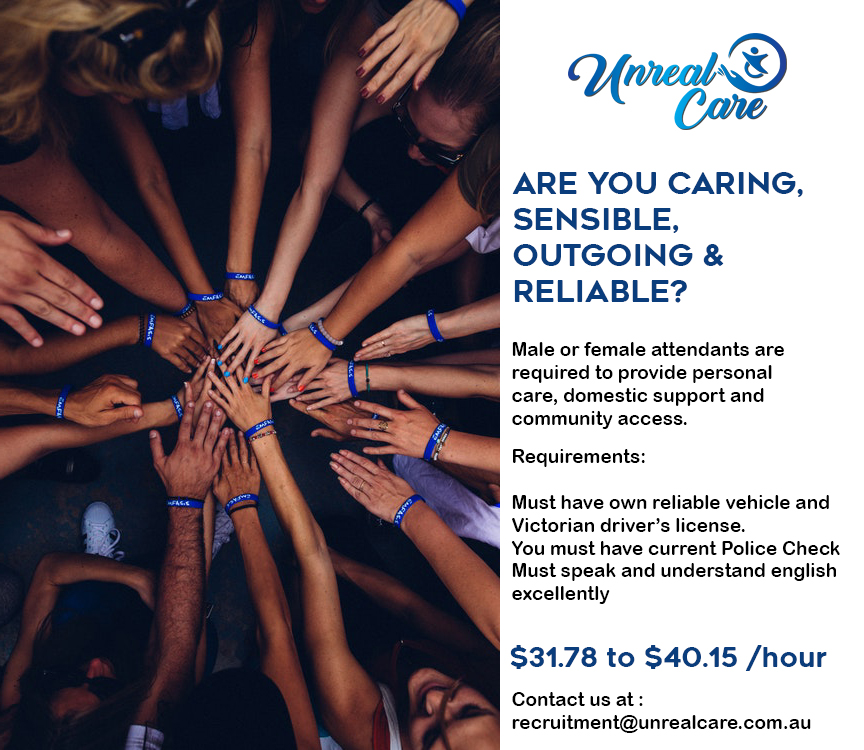 A female or male attendant required to provide personal care, domestic support and community access to Matt, a young independent male with Cerebral Palsy in Glen Waverley. He has a great sense of humor, a very easy-going manner and pleasant living environment. Matt requires sociable people to be part of his team as daily conversation is important to him. Matt enjoys going to festivals, bands, clubs and hanging out with friends. There are 2 friendly cats in his household so it is essential to like cats.
Must be available during weekdays, weeknights and weekends.
Hours are flexible.
Wages are paid fortnightly and are above award + weekend Penalty Rates
Must have own reliable motor vehicle and Victorian driver's license.
Must like cats!!
Must have intermediate cooking and food handling skills!
You will need to have a Current Police Clearance or willingness to undergo at the time of recruitment.
Level 2 First Aid certification is required and must be acquired within the first month of employment.
No carer experience is necessary.
You must possess excellent communication skills and be an Australian resident.
All the training that you require will be provided.
Responsibilities and Duties
Light cleaning
Cooking
Running errands
Laundry
Assisting clients with bathing, showering, grooming, and other personal hygiene tasks.
Engage clients in activities like reading, talking, and playing games.
Qualifications and Skills
Communication
Compassion
Attention to Detail
Flexibility
Honesty
Medical Knowledge
Patience
Physical Stamina
If you are positive, outgoing, compassionate, responsible and reliable then maybe you would suit this role. Prefer local person (Glen Waverley) as shifts are relatively short with the possibility of weekend getaways.
Availability for weekday shifts is essential.
As part of the clients Self-Managed Program, this position would see you reporting directly to the client.
Hours would average 8 – 10 hours per week.
Although this role is casual, a long-term (minimum of 6 months) commitment is required.
Residency Requirement:
Australian Citizens and Permanent Residents ONLY
Application procedures:
BEFORE APPLYING – check the above selection criteria. Do you have these skills? Do you have the availability the job needs? Do you live near Glen Waverley?
Send in your applications to:
Please include your resume with a cover letter showing your interest for the carer position.
*Please do not email if you are a previous applicant.
Job Type: Part-time, Temporary, Casual
Salary: $31.78 to $40.15 /hour